---
Cosmopolitan Cafe & Restaurant, located in Karachi's newest upscale dining block in Clifton, offers international and western European cuisine in a sleek and contemporary atmosphere. Established in 2014, the European inspired restaurant incorporates clean-lined architecture with warm eclectic decor that creates a unique and intriguing dining ambiance.
ON THE MENU
Cosmopolitan serves unique dishes inspired from cuisines from all over the world which are differentiated, elegant, stylized and delicious. The breakfast at Cosmopolitan is already recognized as being one of the best in Karachi. It is also a haute and buzzing place for lunch and dinner with a select, yet impressive menu. Enjoy upscale, premium service and food in a modern, artistic setting.
INSPIRATION OF COSMOPOLITAN
The word Cosmopolitan means "familiar with and at ease in many different countries and cultures". The word aptly describes a whole generation of Karachites who have the same lifestyle, enjoy the same food and are as comfortable and at ease in places like New York, London, Toronto, Paris, Barcelona as they are at home. This group enjoys watching the same movies and TV shows, listening to the same music, wearing the same designer labels and using the same ipods, ipads and smart phones with the same apps as their counterparts in these cities. Therefore, they are the Cosmopolitans of Karachi and they are the inspiration behind this restaurant. This café is intended to be a place where such people can chill out after a tough day's work to unwind, enjoy trendy music and the best of world cuisine for an exciting dining experience.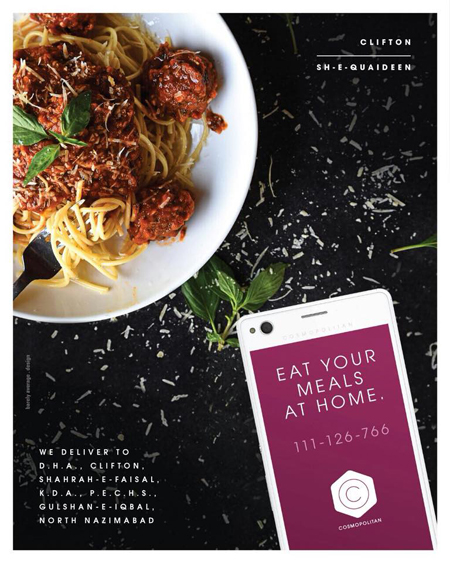 ---
Cosmopolitan
Clifton
C-33 Main E Street
Block 4 Clifton
Karachi, Pakistan.
Tel: (92-21) 3-529-0156, 3-529-0058

Shahrah-e-Quaideen
Shop 1,2 & 3
Plot 241/A/2
P.E.C.H.S.
Main Shahrahe Quaideen
Karachi, Pakistan.
Tel: (92-21) 3-455-4451, 3-455-4452
Cuisine: International, Western European
Official Website: www.cosmoplitan.com.pk
Facebook: www.facebook.com/cafecosmopolitanpk
E-mail: info@cosmopolitan.com.pk
Business Hours: Monday-Friday and Sunday: 8:am-12am | Saturday: 8am-1am

Menus: LUNCH & DINNER MENU

Cuisine: International Cafe. A few specialties include:
·

FerroroRocher Pancakes

·

Banana Bread French toast and French Toast Roll-Ups with Nutella

·

Steak Nachos

·

Fried Calamari

·

Blue Cheese Burger

·

Chicken Fajita Sandwich

·

Crispy Baby Snapper

·

Pizza and Pastas

·

Wasabi Club Sandwich

·

Grilled Sea Bass

·

Morel Mushroom Steak

·

Gourmet Desserts
Modern Amenities: Wi-Fi, Disabled access

Private Party Facilities: Can be arranged upon request.

Private Dining Room: Although no private dining room is available, areas of the restaurant can be reserved for large parties.

Outdoor Seating Area: Yes

Preset Menus: Can be arranged upon request.

Business Lunches: Can be arranged upon request.

Breakfast: Yes, one of our specialties!

Hi-Tea: Can be arranged upon request.

Take-Away Orders: Yes

Delivery: Yes, delivery is offered via Foodpanda, Eat Oye and Food Genie

Reservations: Reservations are accepted for large parties only. Otherwise first come first serve.

Children Policy: Allowed

Ambiance: Contemporary, Old-World cafe, Friendly

Parking: Roadside and Valet parking are available

Accepts Credit Cards: Visa & MasterCard

Gift Cards: Available upon request

Smoking Policy: Inside area is for non-smoking. Smoking is allowed in the outside area.

Nearest Landmark or Cross Street: Hyperstar. Next to Xanders and Nabila's Salon (N-PRO) on E Street.

What to Expect: An innovative upscale cafe with creative European inspired food and desserts.
---