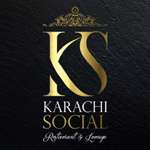 ---
Karachi Social introduces a fabulous French and Italian menu served in an upscale, stylish ambiance. The inviting and spacious dining rooms feature dark wood accenting, low-lit lamps and European influenced décor, which create the perfect setting for an enjoyable dining experience. Karachi Social offers a variety of choices to ensure every meal becomes a celebration of food, friends, family and special occasions.
AUTHENTIC CUISINE
The Chefs special recipes are what set Karachi Social apart from the other restaurants in Karachi. Most recipes are prepared using olive oil with an emphasis on freshness and high quality ingredients to create the most flavorful dishes. The steaks are the house specialty, grilled perfectly according to the guest's preference and are said to be the best in town.
COFFEE LOUNGE
The Karachi Social Coffee Lounge, with a seating capacity of over 100 people, is located on the entire upper floor of the restaurant and offers a unique and delightful atmosphere. The over-sized chairs and well-thought out table arrangements make for a relaxing afternoon or evening getaway for the younger and older crowds alike. Bright window seats are available as well as more private, romantic tables for two.
Karachi Social's in-house bakery offers a fine selection of desserts and pastries. Relax and enjoy with excellent hot and cold coffee drinks, Italian sodas, and even your own music selections. Some of Karachi Social's Coffee Lounge specialties include authentic New York Style Cheesecake, Mocha Cake Ala Mode, Sizzling Brownie Ala Mode, Frappuccino, Flavored Mocha Glacier and much more.
THE EXPERIENCE
As a favorite greeting and meeting place for our patrons, Karachi Social is earning a reputation as one of Zamzama's most alluring, sophisticated and seductively genuine restaurants. Karachi Social's friendly and helpful servers take extreme care in every aspect of your visit, while the chefs prepare great food fresh to order, ensuring that you have an utmost enjoyable meal every time.
An eclectic fusion of European tastes accentuated by a stylish interior make Karachi Social an ideal restaurant for those seeking a complete fine dining experience. Come and enjoy the innovative French and Italian cuisine at Karachi Social.
A MESSAGE FROM THE CHEF
"We are committed to bringing you the best quality ingredients and we take great pride in exceeding your expectations. We prepare each dish with the highest degree of care and with your specific preferences in mind." Where possible, we support products grown or raised locally in order to reflect the style and pride of our region and we hope that you enjoy what our region has to offer. Please advise your server of any food allergies so that we may serve you better. Consuming raw or undercooked meats, poultry, seafood, shell fish or eggs may increase your risk of food borne illness.
---
Karachi Social

9-E, 7th Commercial Lane, Zamzama
Phase 5, D.H.A.
Karachi, Pakistan.
Tel: (92-21) 3-582-0186, 3-582-0187

Cuisine Type: Continental, French & Italian
Official Website: www.karachisocial.com
Facebook: www.facebook.com/karachisocial
E-mail: Salmansheikh@me.com
---
Business Hours: MON-THURS: 1:30pm-12:30am | FRI-SUN: 1:30pm- 1am
Services: Lunch, Dinner, Cigar Lounge, Gourmet Bakery
A few of our specialties include:
·

Hot beverages and cigars at the coffee lounge

·
Pastries & Baked Assortments
·
Grilled Prawns
·
Thai Beef Salad

·
Chicken in Mushroom Sauce
·
Korean Rice & Spice
·
Beef with Pepper Sauce

·
Fettuccini Pasta
·
Hummus
Accepts Credit Cards: Yes
Ambience: Vintage, Elegant & Colorful
Live Entertainment: Yes, every weekend. Please call for details.
Private Dining Room: Yes
Party Facilities: Up to 150 person in-house accommodations
Business Lunches: Yes, we have a projection facility that allows companies to hold meetings in a comfortable atmosphere with excellent food and cocktails.
Brunch & Hi-Tea: Coming Soon!
Catering: Indoor & outdoor catering available for up to 200 persons.
Special Events: Parties, Halloween Nights, Valentine's Day, Live Music
Modern Amenities: Valet Parking, Wi-Fi, High Chairs
Outdoor Seating: No
Reservations: Accepted. Walk-Ins also welcome.
Take-Out: Yes
Delivery: Yes
Parking: Roadside & Valet
Smoking: Non-Smoking Area Available. Cigars allowed upstairs in the Coffee Lounge.
Children Policy: Allowed until 9:30pm
Wheelchair Accessible:
Wi-Fi: Yes
What's New? Karaoke Nights! Coming Soon.
Nearest Landmark/Cross Street: Main Zamzama/Faisal Bank
What to Expect: An upbeat, friendly and spacious family restaurant and coffee lounge that offers high quality cuisine in a contemporary and elegant environment.
---
---